Free Virtual Education Program
Each day during Feeding Tube Awareness Week, at 9am AEST / 10am AEDT we released new video content on tube feeding from specialists in the field and individuals/families with lived experience. The videos were announced each day across our social media pages and are now available for viewing from this webpage. All videos will remain accessible for on-demand viewing. Please note that these videos are provided for general information and support purposes only and are not intended as a substitute for medical advice from your doctor or other healthcare provider. If a video raises questions for you, it's important to discuss with your doctor or other health professional.
Launching FTAW 2022 and Reflections from our Tube Feeding Journey
Sarah Gray, ausEE Founder and CEO, launches Australia's Feeding Tube Awareness Week for 2022 and the virtual education program. She also shares, together with her daughter Bella, reflections from their tube feeding journey.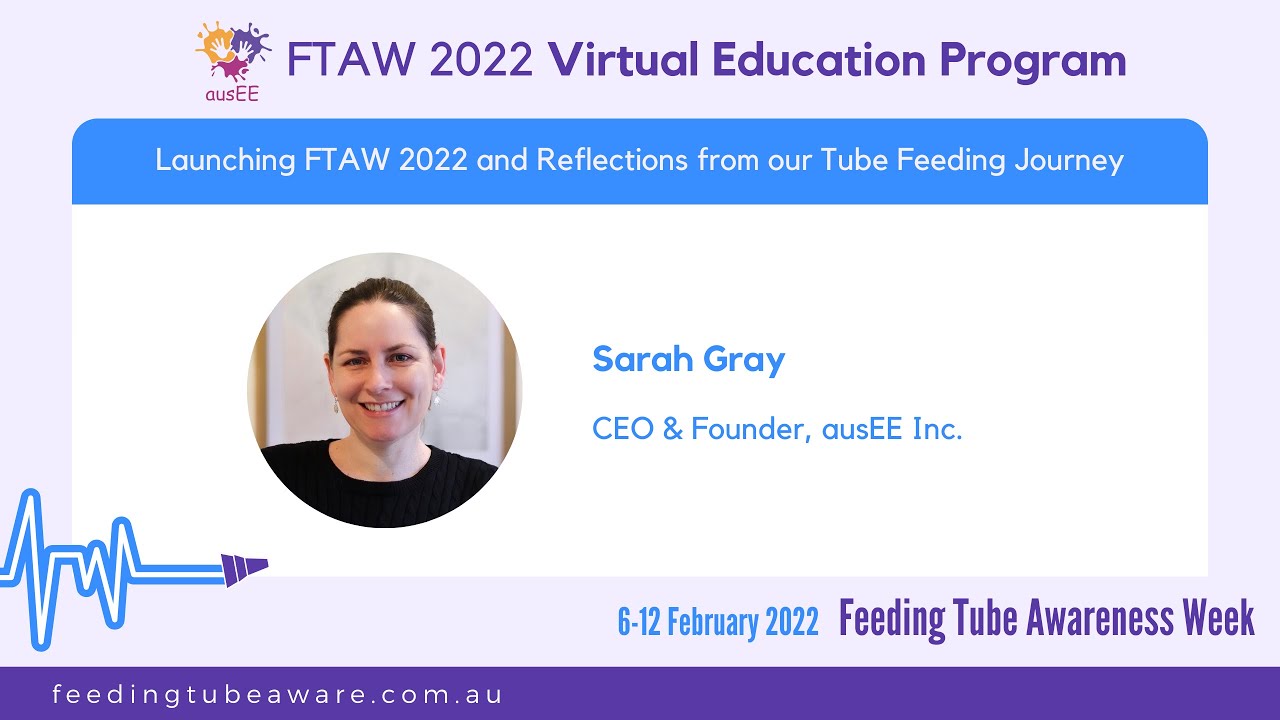 Sarah Gray is the Founder and CEO of ausEE Inc., Australia's peak national support and patient advocacy organisation representing Australians living with an Eosinophilic Gastrointestinal Disorder (EGID) including Eosinophilic Oesophagitis (EoE). She has two daughters, the eldest, Bella is 18 and was diagnosed with EoE at 18 months of age and required a feeding tube for 4 years to meet her nutritional needs. The youngest, Olivia, 16, is a dedicated volunteer of ausEE, creating many of the elements in the Feeding Tube Awareness Week campaign.
Interviewing the Interviewer: Introducing 'The Blend'
Bella Gray interviews Melanie Dimmitt about her exciting new resource, launched during FTAW,
The Blend
.
The Blend
provides tubies and tube-feeding families a free beautifully designed magazine bursting with stories, advice and inspiration.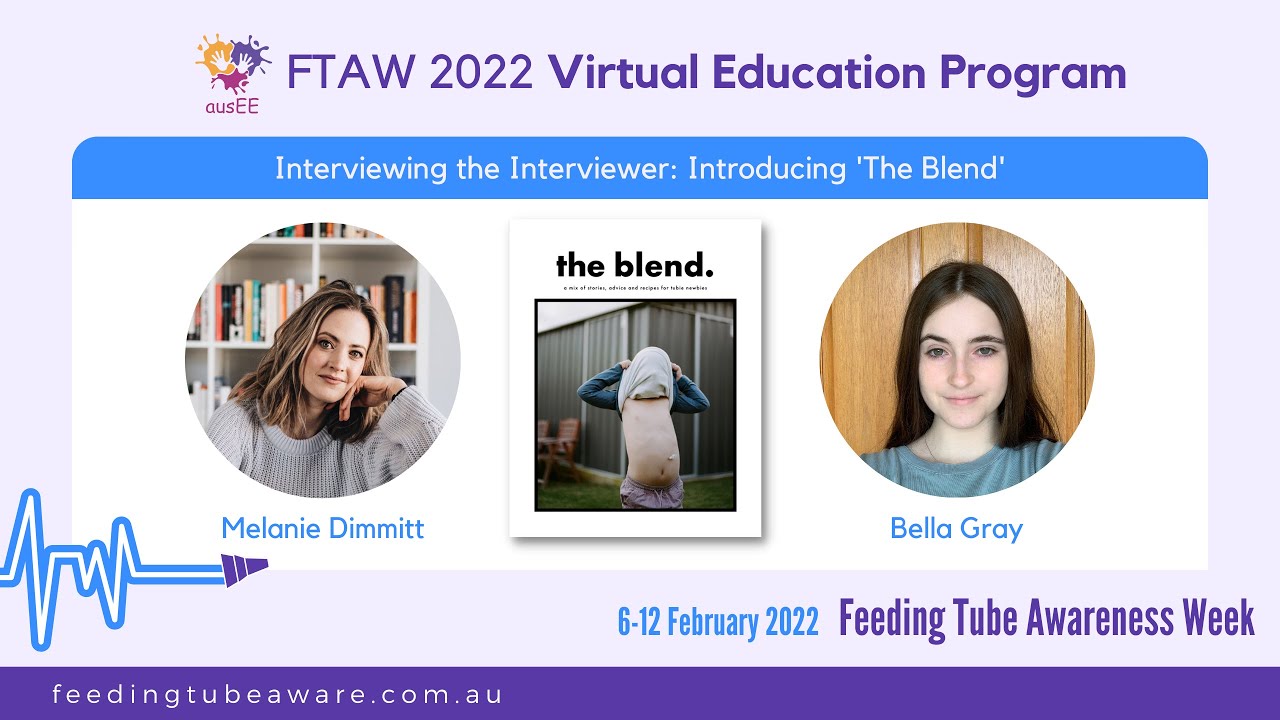 Melanie Dimmitt is a freelance journalist who's written for The Age, Sydney Morning Herald and Collective Hub magazine. She's a mother of two young kids - one with a profound physical disability, one medically boring, both cute as hell. Since launching her debut book,
Special: Antidotes to the Obsessions that Come with a Child's Disability
, Melanie has written, spoken, podcasted and advocated far and wide for parents travelling not-so-typical paths. She currently heads up news and features at disability support organisation,
Hireup
, and hosts the
NDIS Know-how podcast
.
Bella Gray is an 18 year old wildlife photographer, who manages multiple food allergies and a chronic inflammatory disease, eosinophilic oesophagitis (EoE). Bella is also a dedicated volunteer behind ausEE's Feeding Tube Awareness Week campaign, a cause close to her heart as she had a feeding tube herself from ages 7 to 11.
SUCCEED Child Feeding Alliance Panel
The SUCCEED Child Feeding Alliance Panel introduces SUCCEED, summarises their research findings and provides some ideas to help families, carers and children who tube feed to thrive.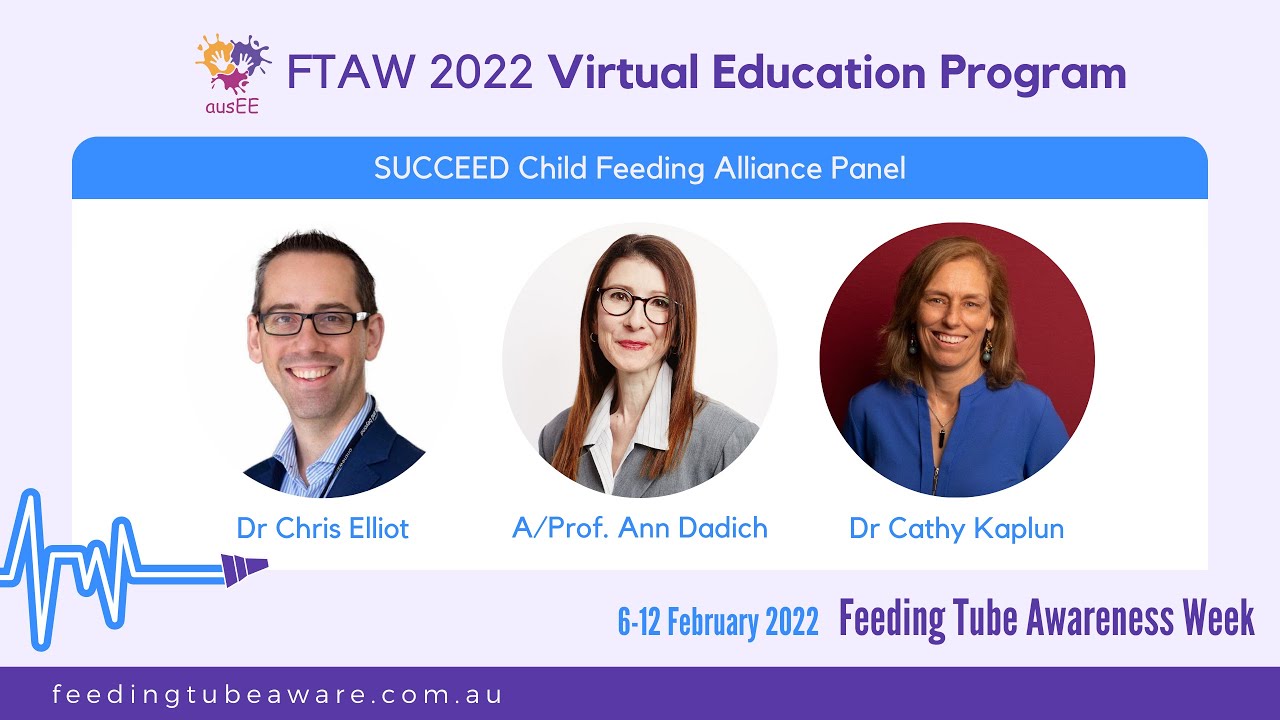 Dr Chris Elliot is a General and Developmental Paediatrician. He works in a Multidisciplinary Paediatric Feeding Clinic in Sydney and is a co-founder of the SUCCEED Child Feeding Alliance. SUCCEED works with families, clinicians and researchers to create a world where all children who tube feed can thrive.
Co-founder of SUCCEED, Prof. Nick Hopwood:
Associate Professor Ann Dadich is affiliated with the Western Sydney University School of Business. She is also a registered psychologist. Associate Professor Dadich has accumulated considerable expertise in health service management, notably knowledge translation – that is, the ways in which different knowledges, including research evidence and lived experiences, coalesce to promote quality care. She has a particular interest in understanding and promoting brilliant healthcare – the type of care that exceeds our expectation, brings joy and delight, and makes our hearts sing.
Dr Kaplun is a research fellow at the
Transforming early Education And Child Health (TeEACH) Research Centre
, Western Sydney University. Cathy's background includes Early Childhood Education and health services. Using strength-based and participatory approaches in her research, Cathy acknowledges the lived experiences of communities, families and children in her work and strives to create positive change by developing practical supports, practices and programs that are meaningful to those who use them. Cathy enjoys working on collaborative teams that bring researchers, health professionals, business partners and those with lived experience together. Pooling their respective skills, expertise and knowledge, the team identify what works well, what is missing and what can be improved with the aim of addressing child health and education inequities in service delivery, practices, programs and policies, so all children have the opportunity to thrive.
Bonus Video: Luke's Story: A real story, told by an actor
SUCCEED shares stories of real families. Every history of a child with complex feeding difficulties is different, but every story is important. Names have been changed and stories are told using actors to protect the privacy of the families who shared them. You can find more real stories on the
ChildFeeding.org
website.
Looking After Yourself as a Tubie Parent/Carer
Jess Gowans, a psychologist and tubie parent shares tips, information and resources on how to look after yourself as a tubie parent/carer.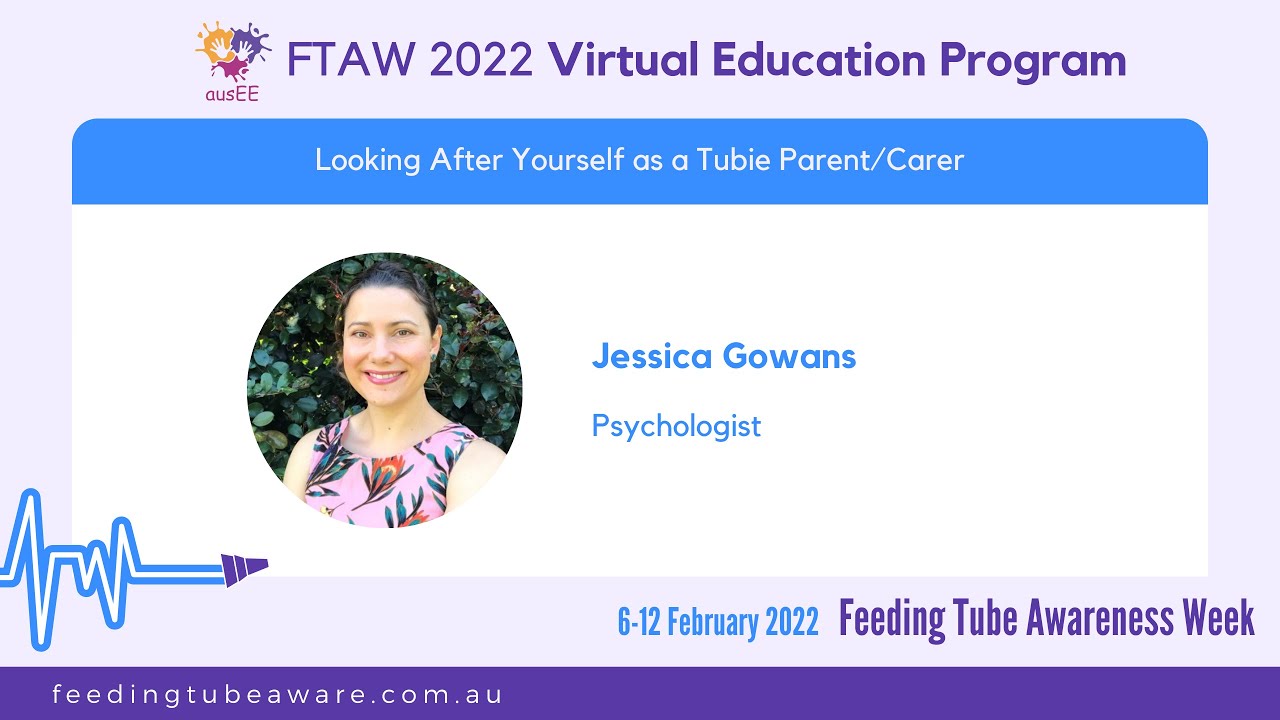 Jessica Gowans BA (Psych) PG Dip (Psych) MAPS
Jess Gowans lives in Sydney with her husband Tim and their two beautiful children aged 8 and 5. Both of Jess's children have feeding tubes – initially NG tubes, and then G Tubes (mic-key buttons), to manage their metabolic disorder, feeding aversions and also her son's eosinophilic oesophagitis (EoE). Jess works as a registered psychologist and enjoys volunteering in the space of children's medical support/research, tube feeding awareness and with super dog Ada through Animal Assisted Therapy. Jess is also a co-founder of a local tube feeding support group, founded in 2017 and now with 150 amazing members who are either tube fed or parents/carers of a tube fed loved one.
Bonus Video: Geoffrey's Story: A real story, told by an actor
SUCCEED shares stories of real families. Every history of a child with complex feeding difficulties is different, but every story is important. Names have been changed and stories are told using actors to protect the privacy of the families who shared them. You can find more real stories on the
ChildFeeding.org
website.
This story references a personal experience with a day care centre not being able to manage tube feeding which unfortunately resulted in the child having to be withdrawn (reluctancy) from the centre.
We want to let families who may be in a similar situation know that the Department of Education, Skills and Employment provides an
Inclusion Support Program
which works with child care services to identify and address any barriers to inclusion.
Weaning Children from Enteral Feeding Tubes: International Practises, Factors Influencing Success and Parents' Experiences
Emily Lively, Speech Pathologist presents her research and experience in weaning children from tube feeding, discussing international practises, factors influencing success and parents' experiences.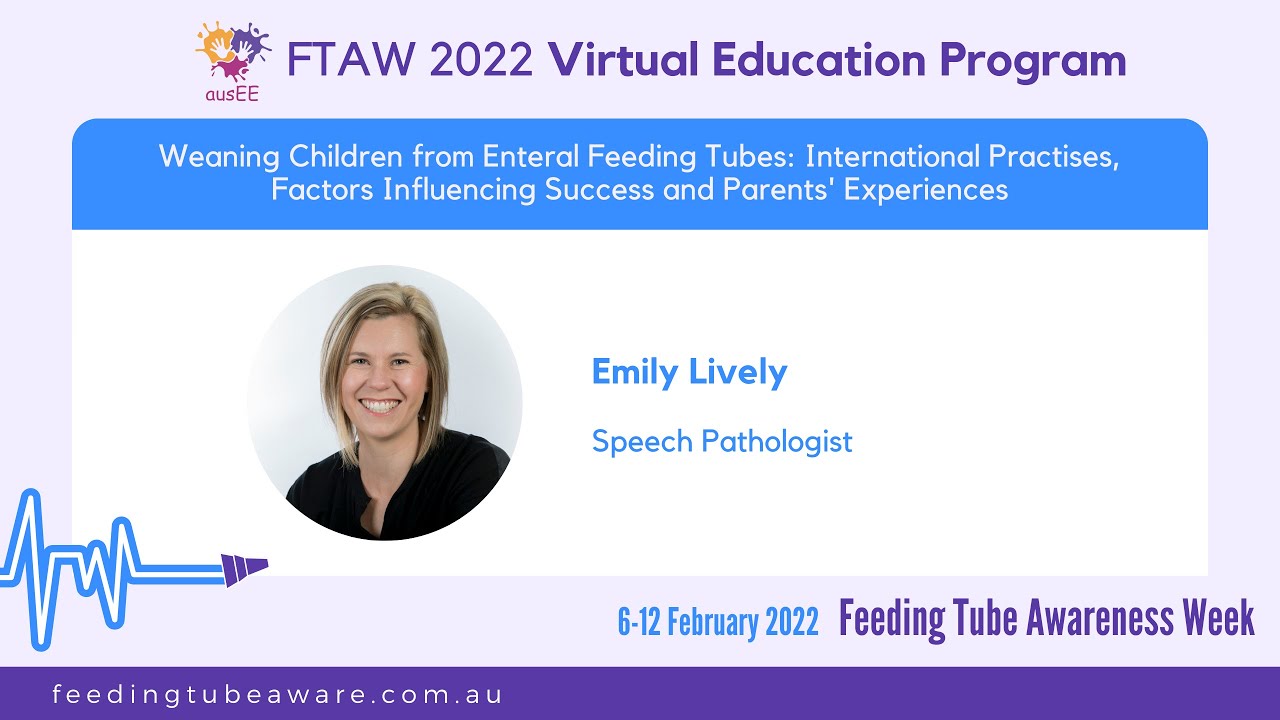 Emily Lively BSc (Speech Pathology)
Emily Lively has worked within paediatric Speech Pathology since 2000. Over the last 18 years she has specialised in infant and paediatric feeding difficulties, working at both hospital and community clinic settings in country South Australia, the United Kingdom and metropolitan Adelaide. Emily has extensive experience working with non-oral children (tube fed), children with ASD and developmental delays and complex feeding relationships. She is currently completing a PhD exploring enteral tube feeding dependency and tube weaning - international practices, factors influencing success and parents' experiences. Emily has published papers on the above topics, provides regular training workshops, has lectured in Paediatric Feeding at Flinders University and the University of Queensland and has presented at a range of national and international conferences. Emily is a co-founder of WHOLE Enteral Nourishment – an Australian made wholefood tube feeding formula which meets the FSANZ guidelines for Formulated Meal Replacement. Emily believes feeding on its own cannot be assessed or addressed without looking at the complex interaction between environment, behaviour, medical, sensory, motor, emotional/relational and developmental skill.
Blended Tube Feeding in Enteral Feeding: Consensus Statement from the Australasian Society of Parenteral and Enteral Nutrition (AuSPEN)
Dr Usha Krishnan presents on the Australasian Society of Parenteral and Enteral Nutrition (AuSPEN)'s Consensus Statement on Blended Tube Feeding which offers evidence-based guidance for clinicians managing patients who are enterally fed.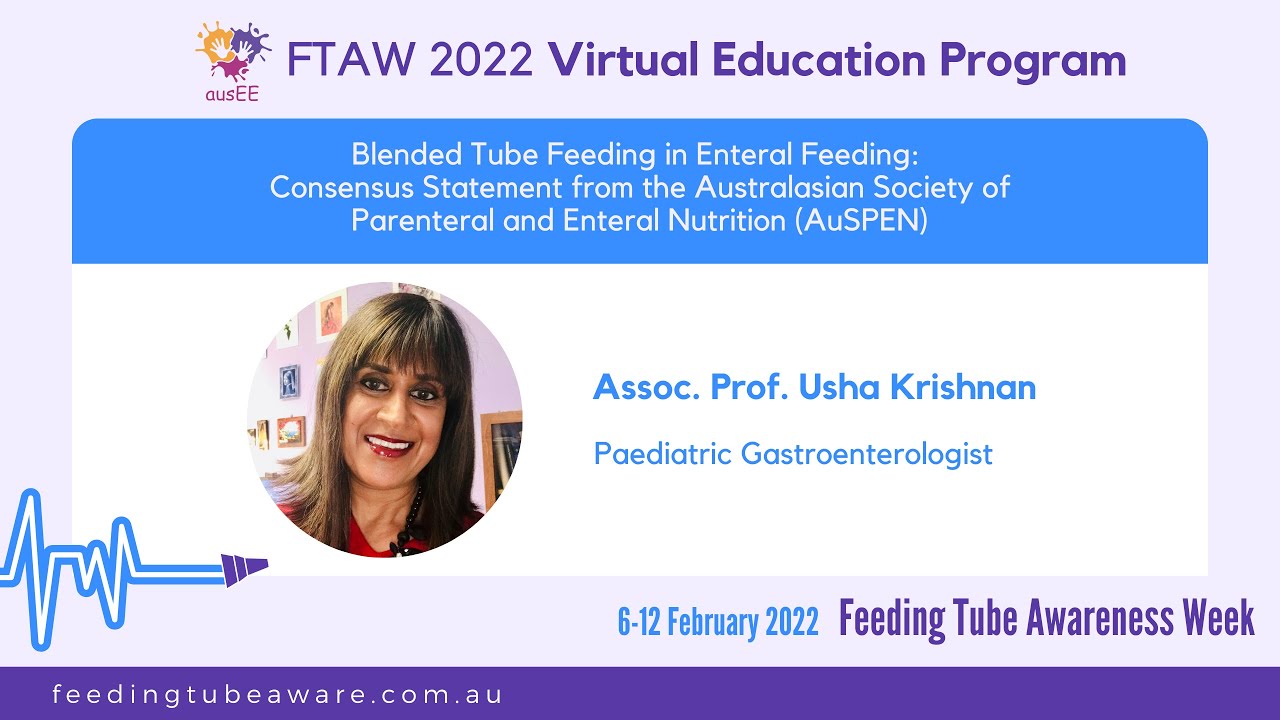 A/Prof. Usha Krishnan MBBS FRACP
Associate Professor Usha Krishnan is a senior consultant in the department of paediatric gastroenterology at Sydney Children's Hospital, Randwick. She has an academic affiliation with the University of New South Wales, and is a conjoint associate professor in the School of Women's and Children's Health at the university. She was a member of the Steering Committee (of Agency of Clinical Innovation, an initiative of NSW Health) for the development of state wide standards for the insertion, management and ongoing care of gastrostomy feeding tubes in children and adults. She had edited a MEDIKIDZ book for parents and children about "Home Enteral Nutrition". She is a member of the Australian and European Society for Paediatric Gastroenterology, Hepatology and Nutrition. She was a member of the Australian Parenteral and Enteral Nutrition Network working group which was involved in the development of nationwide standards and guidelines for the use of "Blenderised Tube Feeds" in children and adults. She has authored over 50 peer review publications in her research career. She has extensively presented in national and international conferences. She has received grants and successfully collaborated nationally and internationally on research projects on a wide range of gastrointestinal diseases including growth and nutrition, enteral feeds and gastrostomies.
Perspectives on Living with Tube Feeding
Stacey, Sarah, Jess, Col, and Sue come together to share their perspectives on living with tube feeding. Together they acknowledge that there are challenges managing tube feeding but also highlight their appreciation for it. They encourage others to feel proud of their tube and not embarrassed, for many, it's the reason they are alive.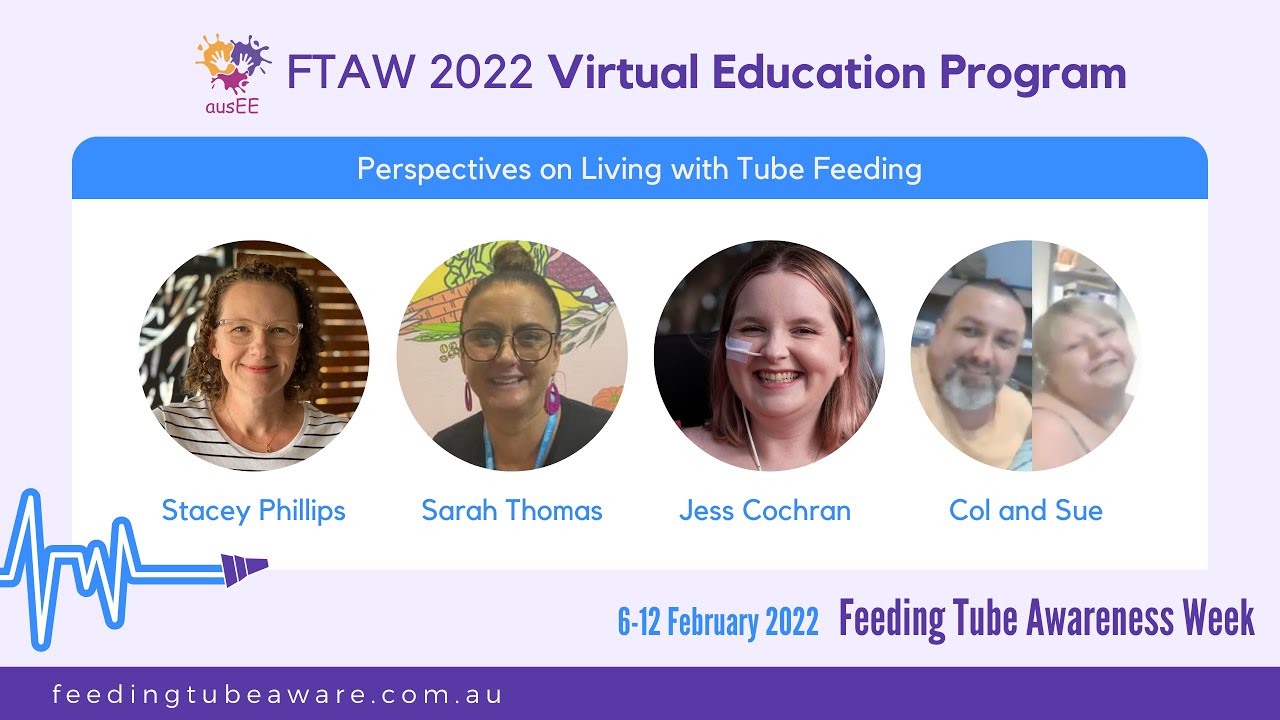 Stacey Phillips is a mother of three sons, her youngest was born with multiple difficulties and requires the use of a tube for feeding. Stacey is also the creator of Tubie Fun which celebrates feeding in a different way by providing a fun way to express personalities through practical products that support all ways of tube feeding.
Sarah Thomas is the founder of Wholesome Blends, Australia's first real food option for tube feeding. Sarah worked in the events industry and with food production prior to starting Wholesome Blends, inspired by her son Lewis who is tube feed after having a stroke when he was just 3 years old. Sarah believes all people should have choice when it comes to eating regardless of how they are able to eat.
Jess Cochran is a 32-year-old living independently in Melbourne, VIC. Jess has spent a lot of time in hospital both as a teenager and adult. Their primary conditions include Ehlers-Danlos Syndrome, Gastroparesis, Autism and C-PTSD. Jess has had enteral feeding as an adult and teen. They have had NG, NJ and PEGJ tubes, currently they use a PEGJ for their nutrition. Jess is a writer, performing artist, actress, model, and disability advocate. Growing up they never saw themselves represented in the media and there was very little awareness around disability, chronic illness and mental health in school. Because of these things Jess is now passionate about helping young people see themselves resented in workplaces, media and getting out to do adventurous and fun activities. Jess knows that there is a lot of benefits to seeing authentic representation of disabled and chronically ill people in the world outside of hospital and that it can make a significant difference to how people of all ages view themselves and those around them.
Col and Sue are parents and carers with over 11 years' experience caring for children living with feeding tubes.
Bonus Video: Harry's Story: A real story, told by an actor
SUCCEED shares stories of real families. Every history of a child with complex feeding difficulties is different, but every story is important. Names have been changed and stories are told using actors to protect the privacy of the families who shared them. You can find more real stories on the
ChildFeeding.org
website.
Home Enteral Nutrition across ANZ and Homemade Blended Tube Feeding
Lina Breik, Accredited Practicing Dietitian, presents on blended tube feeding covering research, advantages, suitability, homemade and commercial blenderised tube feeds, myth busting and resources.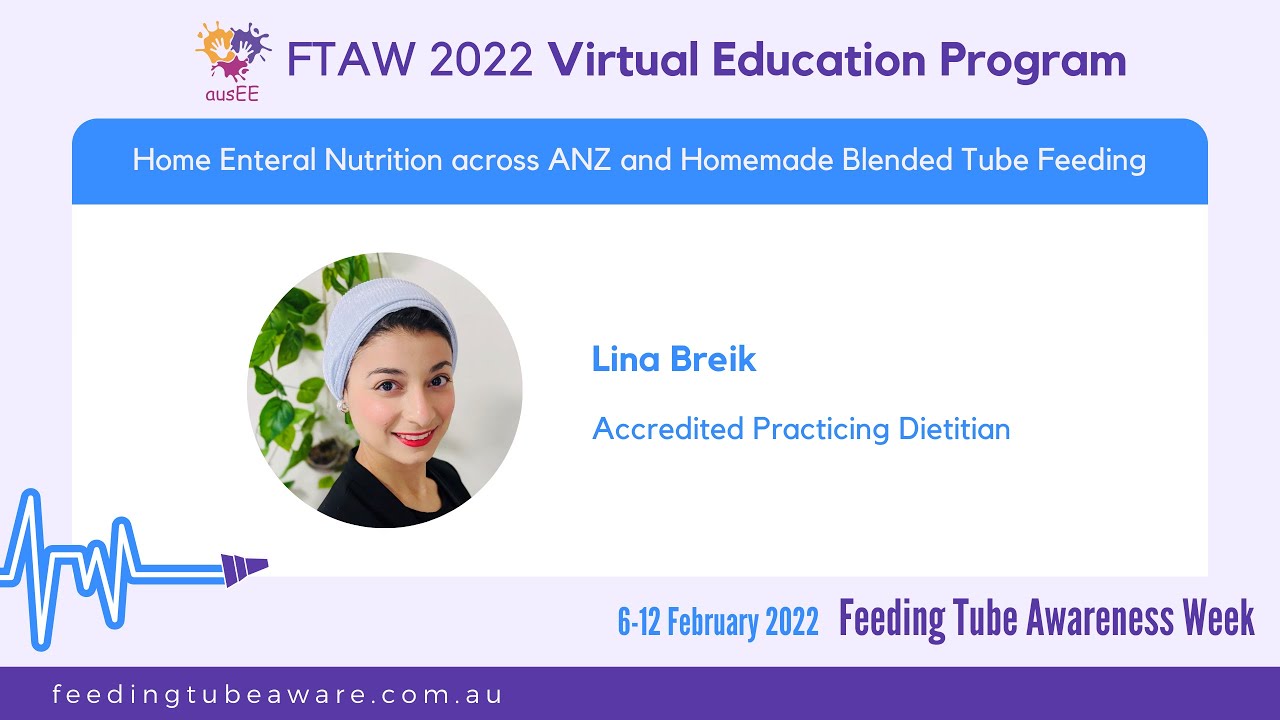 Lina Breik BNutriDiet (Hons) APD MPH
Lina Breik is an Accredited Practicing Dietitian with a decade of clinical nutrition experience working across various hospitals in Victoria. In March 2020, she started her own private practice called Tube Dietitian aimed at bridging the gap between hospital and home for people with feeding tubes. Lina is passionate about taking the fear out of feeding tubes and helping people approach tube feeding as a the social, loving, comfortable nutrition support system that it can be.
Bonus Video: Tony's Story: A real story, told by an actor
SUCCEED shares stories of real families. Every history of a child with complex feeding difficulties is different, but every story is important. Names have been changed and stories are told using actors to protect the privacy of the families who shared them. You can find more real stories on the
ChildFeeding.org
website.
From Tube Feeding to Eating: Home-based Behavioural Intervention
Psychologists, Dr Tessa Taylor and Dr Sarah Leadley present their research on childhood feeding difficulties and experience with home-based interventions in Australia and New Zealand to help children with tube dependence learn to eat new foods and progress with feeding skills.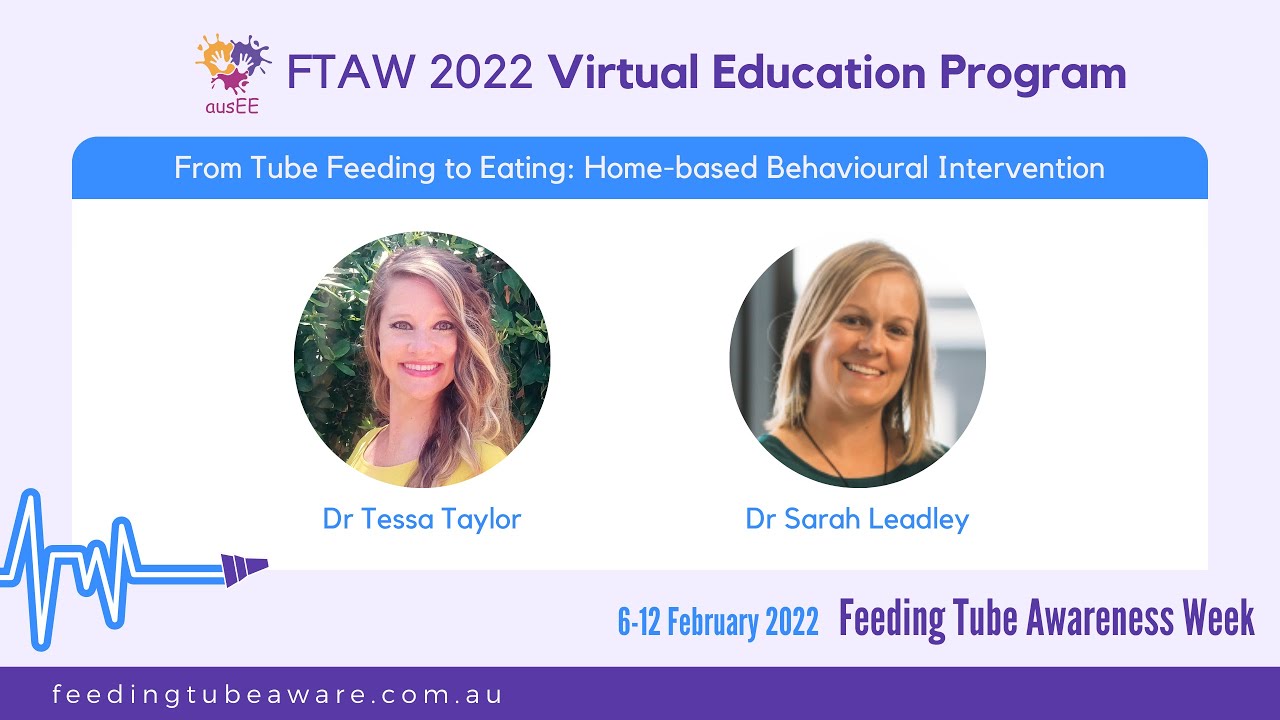 Dr Tessa Taylor PhD BCBA-D
Dr Taylor is a clinical psychologist with over 20 years of experience. She trained in paediatric feeding at Johns Hopkins/Kennedy Krieger (starting in 2009) and has been providing intensive in-home feeding treatment for families in Australia for 7 years. She is Adjunct Senior Fellow at University of Canterbury, President of the Association for Behaviour Analysis Australia, and has authored over 50 publications.
Dr Sarah Leadley PhD BCBA
Dr Sarah Leadley is a Registered Psychologist and Behaviour Analyst (BCBA). For over 14 years, she has provided behavioural services in homes and schools for children and young people with and without disabilities. Sarah is a Senior Lecturer at the University of Auckland and she also provides services to families in the community. Her main specialty is working with children who have varied difficulties with eating, specifically those who rely on tube feeding for nutrition. Sarah is also a mother to two young children who keep her super busy!
Bonus Video: Tube Feeding: Ana & Temika's Experience
Hear from Ana - a mum who has been through a tube feeding journey with her daughter Temika. This video is available for viewing on the
KidsHealth
website.
You can find more information about tube feeding on the KidsHealth website
here
.